JOIN US FOR OUR 2021 SUMMIT AND GAIN THE SNOWIE ADVANTAGE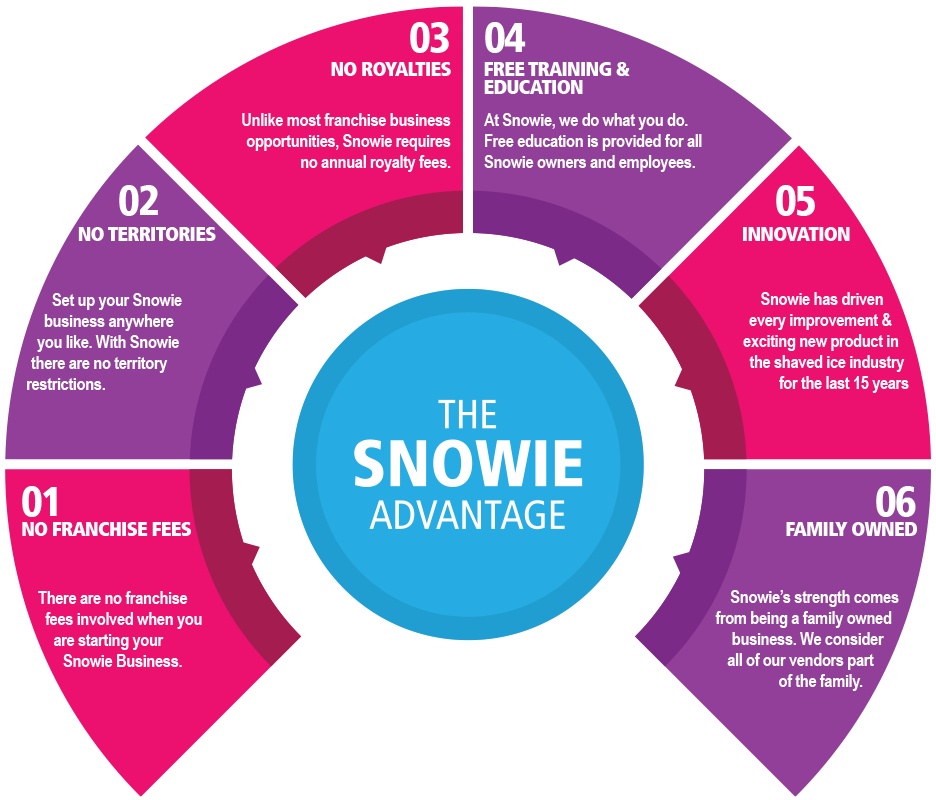 When you join the Snowie team, you gain six key advantages for your business that you won't get with most traditional franchise opportunities.
Come Join the 8th Annual Snowie Summit The Ultimate Snowie Training Event!
Come and join us in Salt Lake City, Utah on March 25th and 26th for the 8th Annual Snowie Summit!
All are welcome at this Snowie event. If this last year has shown us anything its that diversifying your life can make all the difference. If you are serious about diversifying your life and creating future opportunity, then this summit is for you,


Over these two days, you will learn all about Snowie Shaved Ice, have hands on experience with the equipment they manufacture, taste and compare the products they provide, and learn how you can use them in your own Shaved Ice Business.


Whether you are brand new to the idea, or if you have been doing Shaved Ice for years, being exposed to all that Snowie offers can either give you a unique start or a brand new approach to your existing business.


Come spend some time with us. Seeing it in person makes all the difference.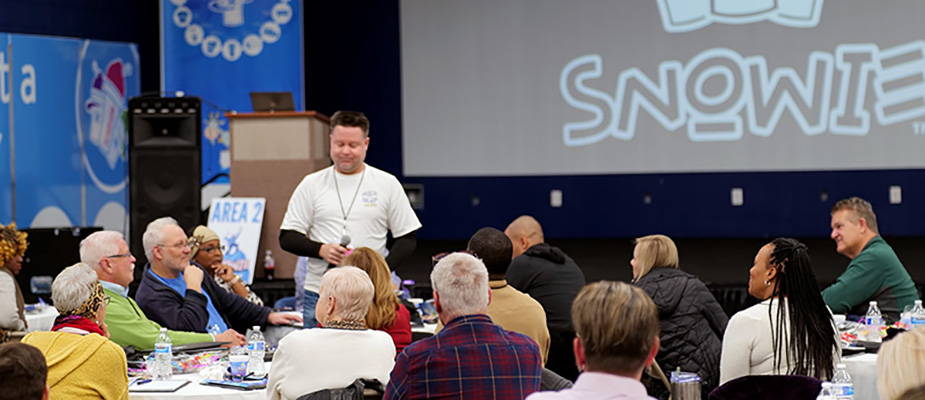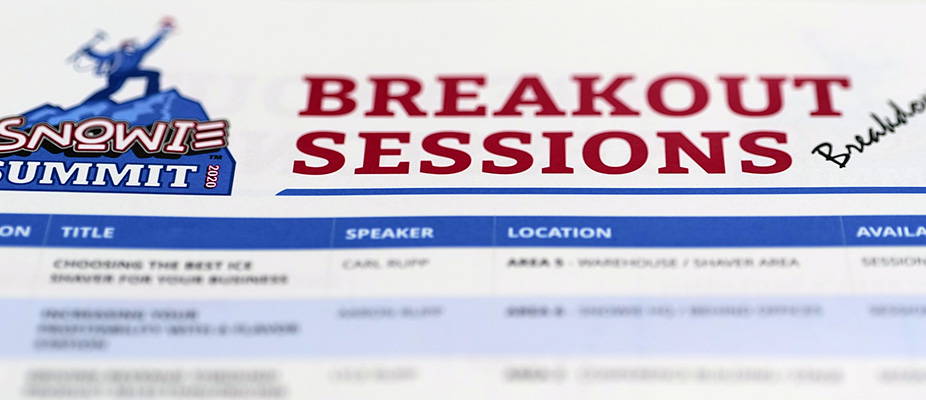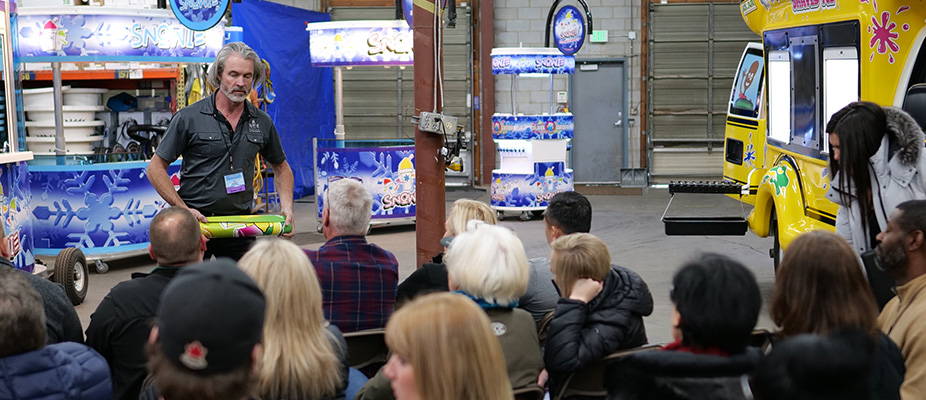 Thursday March 25th, 2021
8am: Check in / Open House
9am: Welcome
10am: Break Out Session 1
11am: Break Out Session 2
12pm: Lunch
1pm: Snowie Brand / Trademark
2pm: Break Out Session 3
3pm: Break Out Session 4
4pm: Social Media 101
6pm: Dinner / Special Event


Friday, March 26th, 2021
8am: Check in / Open House
9am: Vendor Portal / Marketing
10am: Break Out Session 5
11am: Break Out Session 6
12pm: Lunch
1pm: Numbers of the Business
2pm: Small Break Out / Q&A
3:30pm: Next Steps (Do it, Do it right, Do it right now)


We've partnered with Comfort Inn nearby and they are offering group rates of $79 for King Bed and $89 for a Double Queen Bed p/night. Just mention The Snowie Summit to get group rates.

Comfort Inn
2229 W. City Center
West Valley City, UT 84119
Call 801-886-1300
* If for any reason you must cancel, refunds will be available up to March 1st. In addition, If for any reason the event is cancelled due to state regulations on COVID, all tickets will be refunded in full the registrants.
1. Welcome / What is in Your Packet / Which Avenue / Expansion

2. Vendor Portal / Marketing
3. Social Media
4. Snowie Brand / Why / Trademark
5. Numbers of the Business

Overview: BREAKOUT SESSIONS

Come learn about what it means to own a Snowie stationary location. At this break out, we will talk through why the equipment was designed the way it was and how these features are beneficial to you. We will then dive into what a good location for your building looks like. Remember, a stationary location makes you money every day!
Interested in doing mobile events? It is the highest profitability avenue of the business. In this breakout we will discuss the event related equipment that Snowie offers, such as the kiosk and carts. We will discuss the equipment design and features and just as important we will discuss how to go about finding events for your business.

Hot Coco, Lemonade / Expansion (LSM rental business, how having a building and diversifying during the pandemic would have helped your business)

Which shaver is best for the avenue in which you chose to do business? Talk through the durability and quality the shaver produces. How often do you need to change a blade compared to other shavers? If you do not have the funds to purchase a stand right now, you can still at least get started with your shaver and do some small birthday parties/experimenting (keep in mind you do not get to use the Snowie name, until you have purchased the qualifying equipment).
What to charge for cones/events and how to price packages. Offer different products on google my business.

Snowie is famously known for its innovative flavor station. It is what is known as a game changer in the industry. Come learn from none other than the creator of Snowie himself, Carl Rupp about why and how he came up with the design and use of the flavor station. Carl will also be covering the profit potential in using a flavor station.

Snowie's flavors are a huge part of why we get repeat business. Not only is the taste unparalleled but the flavor is actually thick enough to stick to the ice and not just run to the bottom of the cup. Enjoy not only testing out different flavors and topping combinations but learn about the profitability and cost structure of our amazing flavors at this break out.

Running a business takes a lot of organization. At this breakout you will learn about the different management forms Snowie offers to its vendors for free on the vendor portal to help them be successful. Things like a cup count sheet, supply checklists, and even marketing material can be found on the Vendor Portal.

We know we are throwing a lot of information at you, which may leave you with more questions than you even started with. Don't worry, we reserved time for you to come with your questions in hand and let us answer them. We are always here to support our vendors!

Ways to market and sell yourself.
Yelp/Google my business
Email campaigns (a proper email to reach out/ email etiquette)
Fliers in businesses such as beauty salons
Dollar days
Snowie photo shoot/customer appreciation event, theme night, contests (90 second challenge- eat a Snowie in 90 seconds and get a $5 gift card), fundraising,
Big Checks
Community involvement


Snowie always strives to create the best experience possible for guests who attend the Snowie Summit. This year, because of Covid-19 we are taking precautions to ensure the safety of our guests based on all state and CDC guidelines.
It is Snowie's intention to move forward with the Summit in March 2021 to help our new and current customers to get their businesses back on track. If Snowie is forced to cancel this event due to changes in regulations, all registrations will be refunded prior to the scheduled event.